White Papers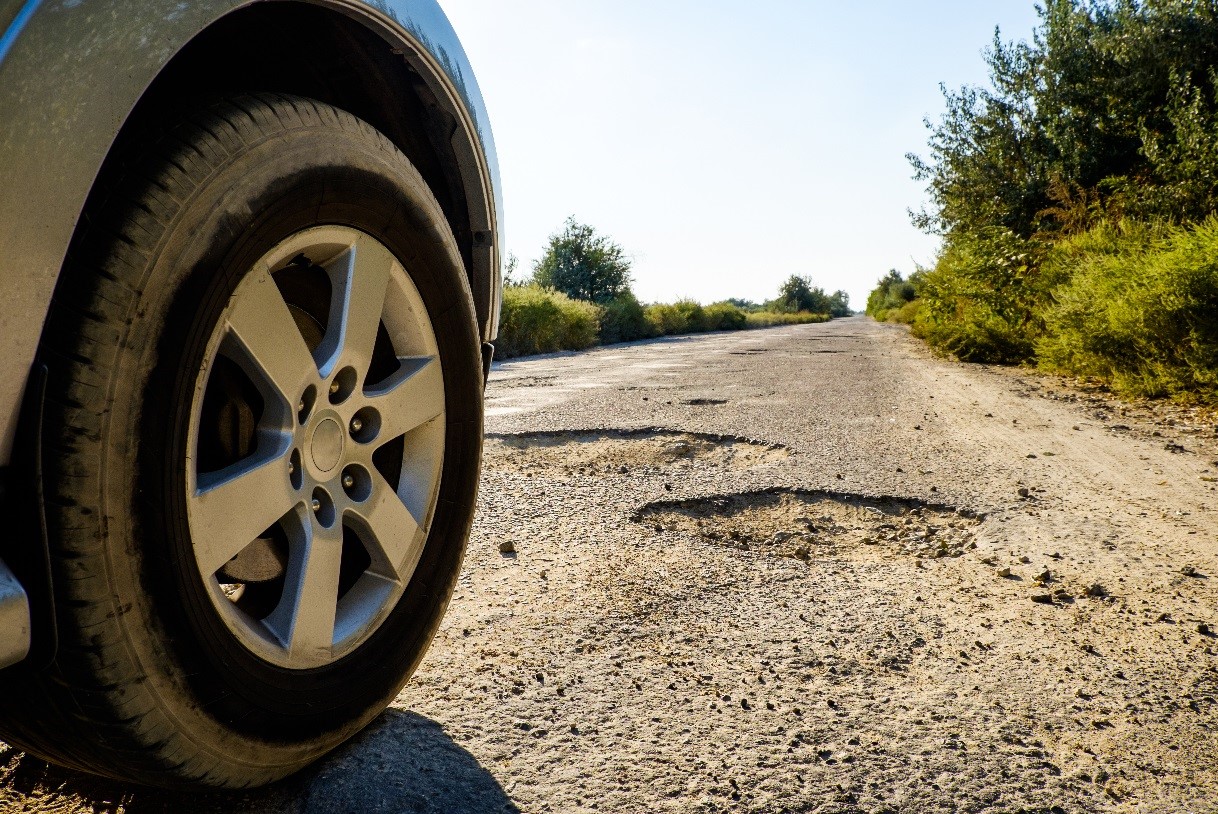 Faced with growing maintenance backlogs, aging infrastructure and tightening budgetary constraints – road authorities and municipalities worldwide are seeking to lower expenses, while still maximizing road safety and quality.
Road maintenance is the fifth-largest overall cost item for road authorities and municipalities and accounts for some 45% of total road budgets. With the growing gap between budgets and demands, road stakeholders need to make every maintenance dollar count.
TRADITIONAL ROAD SURVEYS FALL SHORT
Traditional municipal road surveys are either visual, highly-subjective and manual or automated and very costly.
Visual surveys by municipal employees or citizen reports lack consistency and do not scale. Yet thorough road surveys using special vehicles and instruments conducted by service providers are costly and time-consuming – and the data they produce quickly becomes outdated.
This leaves road authorities and municipalities with tight budgetary constraints, yet without a viable middle option that can deliver the ongoing, detailed and constantly updated road quality intelligence they need to optimize maintenance budgets.
THE SOLUTION TURN YOUR VEHICLES INTO ALWAYS-ON SENSORS
Powered by advanced Artificial Intelligence, the Tactile Mobility platform turns existing municipal vehicles into always-on mobile road condition probes.
Tactile Mobility gathers and analyzes data drawn from existing onboard municipal vehicle sensors. This turns every municipal vehicle into a probe that "feels" the road, maps road friction and pinpoints hazards and distresses – then sends this data securely to the cloud.
The Tactile Mobility cloud correlates and analyzes vehicle-generated data using advanced AI-powered algorithms. The system then generates actionable and updated road insights that maximize road safety, focus maintenance and upkeep efforts and identify critical wear-and-tear trends.
We call these insights SurfaceDNA™ and they enable:
An objective road quality score for each road traveled by municipal vehicles – along with an overall segmented city road quality score
Reports of road damage – cracks, potholes, bumps, and more – including severity and GPS-resolution location
Timely alerts of road hazards such as oil spills, puddles, ice and other weather-related hazards – including severity and GPS-resolution location
Long term insights, analyses and road quality trends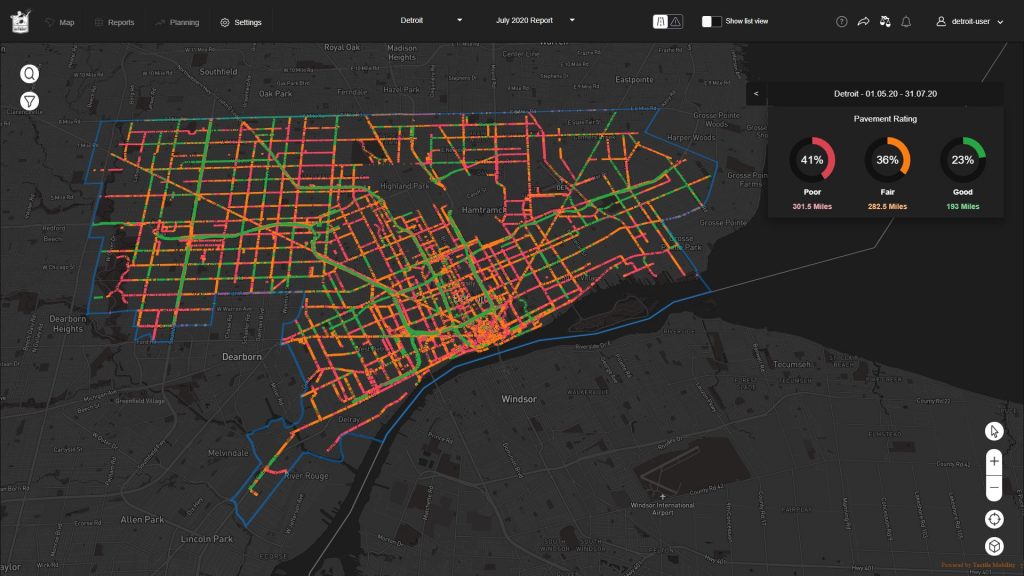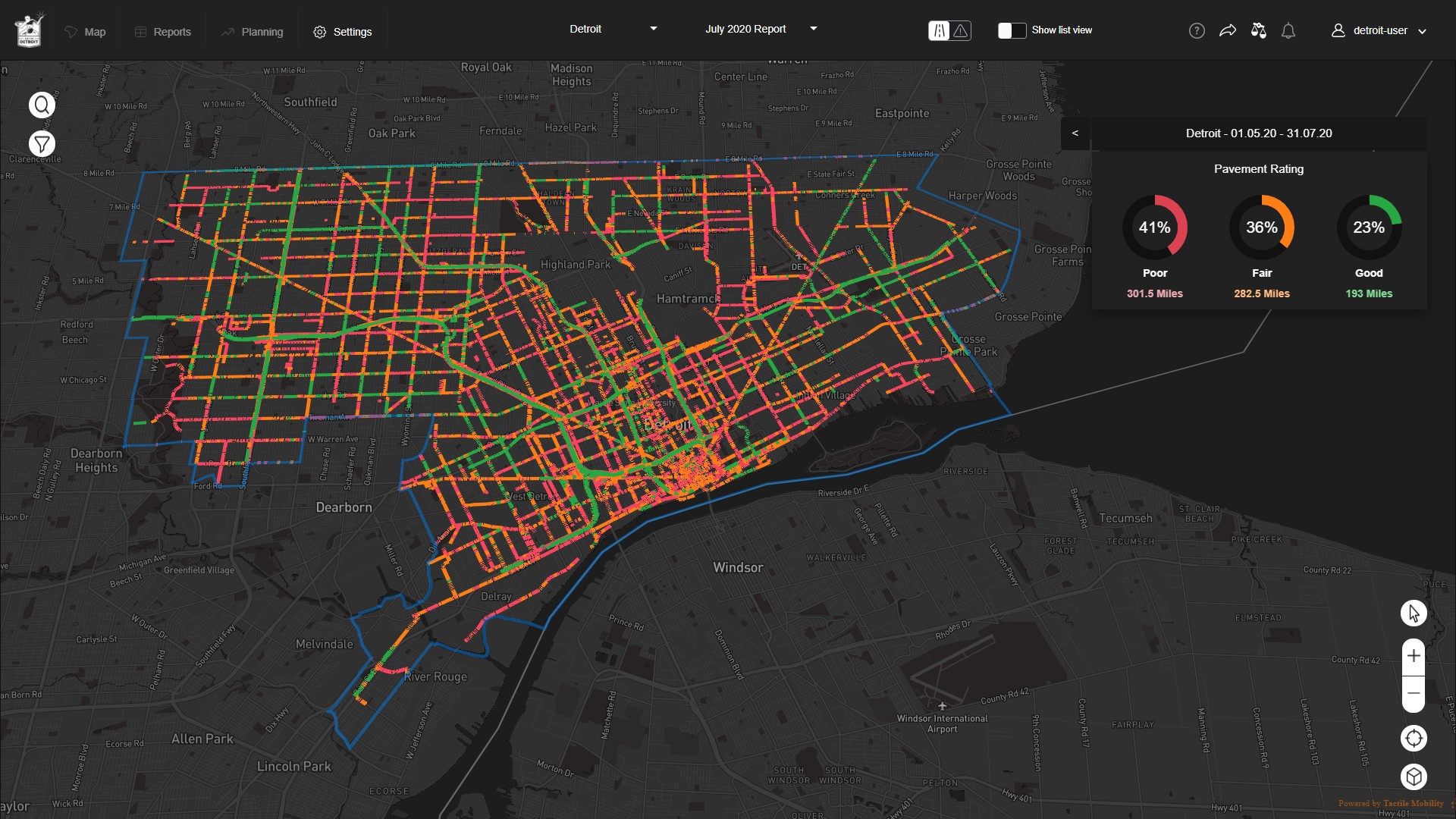 AS EASY AS 1-2-3
SETUP
– During routine vehicle maintenance, add the low-footprint Tactile Mobility device to parking enforcement, maintenance, and other vehicles.
DRIVE
– Operate the vehicles as usual while Tactile Mobility collects data from existing vehicle sensors and analyzes it in the background.
UNDERSTAND
– Based on the collected data, get actionable insights about road conditions and characteristics that enable more effective maintenance planning and execution, as well as timely hazard
TACTILE MOBILITY BENEFITS
Objectively map road conditions more frequently and cost-effectively than currently possible – better surveying for less money
Lower road maintenance expenses with more accurate prioritization of needs based on continuous objective analysis
Raise road safety with timely hazard detection
Manage and dispatch maintenance personnel more efficiently
Optimize winter maintenance planning, operations and quality control
Enhance municipal image with innovative, high-visibility smart city technology

Tactile Mobility Features

Category

Components

Safety

Hazard alerts including slipperiness, aquaplaning, severe distress
Grip map – real-time, retrospective, and predictive

Planned maintenance

Pavement rating map, comparative reports, trends, and more based on constantly updated data

Responsive maintenance

Pothole mapping
Spot allocation and repair recommendations

Winter maintenance

Real-time online slipperiness map
Predictive slipperiness map